Wir dachten uns ja schon, dass es mit der Visumsverlängerung nicht so einfach wird, aber irgendwas läuft in diesem Land echt schief – gerade die Touristen bringen doch viel Geld ins Land und denen macht man es nicht leicht. Wir haben schon viele Indonesier über die neuen Visumregularien schimpfen hören, dadurch dass nur noch 1- oder 2- Monatsvisa vergeben werden, bleiben vielen kleineren Orten die Touris weg, weil dafür einfach keine Zeit mehr bleibt. Nun denn, mit dem Roller sind wir heute früh nach Denpasar zur Immigration gedüst – naja eher geschlichen, die Straßen sind hier ja hoffnungslos überfüllt und man ist die ganze Zeit dabei sich durch den Verkehr zu schlängeln. Nachdem wir uns verfahren hatten gings auch durch die kleinsten Gassen, wo gerade mal so 2 Roller nebeneinander hinpassen. Aber endlich mal wieder nen bisschen echtes Indonesien, was nicht so hochgebürstet ist wie die Touristenecke hier auf Bali.
---
Our personal travel guide for you:
Our recommendations (accommodation, what to do, and much more) about Ubud on Bali?
Travel Guide Ubud | Towards New Horizons
---
Do you need to extend your VISA in Bali?
Detailled description of your VISA extension (VISA on arrival or Social VISA) in Indonesia
Travel Guide – How to extend your Social VISA or VISA on Arrival in Indonesia | Towards New Horizons
---
Es gibt hier auch am Airport eine Immigration, die soll aber hoffnungslos überlaufen sein von uns Touris. Aber was wollen die auf dem Amt für ne Verlängerung des Visums? erst mal 2 Antragsschreiben, dann müssen wir uns einen "Sponsor" suchen, also einen indonesischen Bürgen (wieder mit je 2 von ihm unterschriebenen Formularen wird das dann bestätigt), brauchen eine Kopie seiner ID Card, und des Weiteren ein Rückflugticket vorweisen. Und was bekommen wir dafür?  Das alles geben wir ab, frühestens 5 Werktage später müssen wir wieder hin zum Bezahlen um dann frühsten einen weiteren Tag später das Visum abzuholen. Kein Wunder dass hier so viel Korruption herrscht. Tja, und wie läuft's jetzt tatsächlich ab? Wir zahlen das Doppelte und eine auf Bali lebende Freundin nutzt ihre Kontakte – dann klappt das alles an einem Tag und ohne Formulare. So was hat man leider in Indonesien viel zu häufig.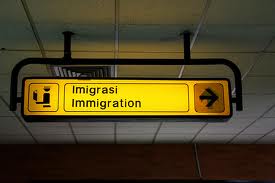 Nach nem tollen Surf Tag in Kuta, der Surfgott hatte sich erbarmt und endlich mal gemütliche Wellen geschickt, haben wir uns auf der Rückfahrt über die stetige Beleuchtung mit LED Stäben am Straßenrand erfreut. Zu den Stäben gehören spezielle Angestellte von Hotels, Restaurants und Bars die nichts anderes machen als den Verkehr mit LED Stäben und Pfeifen anzuhalten, damit Autos vom oder auf den zugehörigen Parkplatz fahren können. Die meisten Läden haben gleich 2 Einweiser, so kommt's also das der chaotische und wilde Verkehr hier als Arbeitsplatzbeschaffungsmaßnahme dient. Aber die Jungs sind wirklich klasse, haben uns auch schon oft über unüberwindbare Straßen geholfen.
So, wir brechen die Zelte ab – morgen gehts dann endlich nach Ubud, aber davor gehts nochmal in die Klinik – sind echt schon Stammkunden dort…
---
Unsere ganz persönlichen Reisetips:
Interesse an unseren persönlichen travel tips und Empfehlungen zu Ubud auf Bali?
Reiseführer für Ubud, Bali | Towards New Horizons
---
Du brauchst eine Visa Verlängerung auf Bali?
Wie kannst du dein VISA on Arrival oder Social VISA in Indonesien verlängern?
Travel Guide – Tourist/Social VISA oder VISA on Arrival verlängern in Indonesien | Towards New Horizons
---